++ NEW DATE ANNOUNCEMENT! ++
The ESTECO International Users' Meeting 2018 will be held on
Wednesday 23rd and Thursday 24th May, 2018 in Trieste | Italy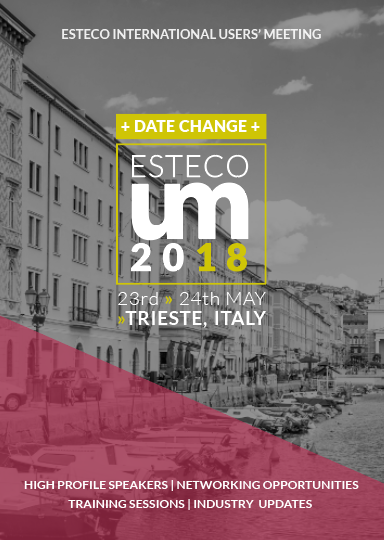 Registrations are now open for the ESTECO International Users' meeting (UM18), which will take place a week later than previously announced. Join us on Wednesday 23rd and Thursday 24th May, 2018 at the Stazione Marittima Conference Hall in Trieste, Italy.
The decision has been made in order to guarantee the most beneficial experience for our participants in terms of logistics. We apologize for any convenience this may cause and invite you to take advantage of the Early Bird rates by registering today.
CALL FOR PAPERS: SUBMIT YOUR ABSTRACT
This year's edition is focused on "Effective Efficiency". Submit your abstract before February 16th and explain how your organization is bringing together numerical efficiency and effective data handling to maximize the power of ESTECO technology.