ESTECO is pleased to host an academic round table discussion on "Science, Technology, Engineering and Mathematics Professions of Tomorrow" organized in the framework of the proESOF initiative aimed at mobilizing Central Eastern European scientific and research community towards Trieste 2020 Euroscience Open Forum.

Men and Women working in science, technology, engineering, and mathematics (STEM) use their knowledge to try to understand how the world works and to solve problems. The round table aims at exploring some of the new professions that are arising from the new century's challenge and how the academia is responding to the demand for education of worldwide citizens. The event is sponsored by EuroScience as part of the proESOF activities which are contributing to promote the city of Trieste as European City of Science in 2020.
The round table will be held on May 23rd from 2:30 to 4:30 PM at the same venue of the ESTECO International Users' Meeting 2018 (map).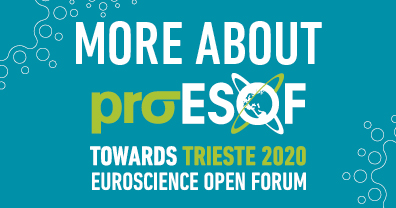 ESOF is the largest interdisciplinary science meeting in Europe. It is dedicated to scientific research and innovation and offers a unique framework for interaction and discussion for scientists, innovators, policy makers, entrepreneurs and the general public. proESOF 2018-2020 is a programme of activities to anticipate and accompany the development of ESOF2020 Trieste. It includes a series of regional and international events that will be organized principally in the north east of Italy, and the Central and Eastern European countries. proESOF is promoted and led by TESI - Trieste Encounters on Science and Innovation of the FIT – Trieste International Foundation for Progress and Freedom of Sciences.
The event is reserved to all UM18 delegates, ESTECO Academy members and university students.
AGENDA

2:30- 4:30 pm

Round Table | STEM Professions of Tomorrow

Welcoming speech

Enrico Nobile, Scientific Advisor, ESTECO SpA

ESOF Committee (FIT) - Introduction

Bruno della Vedova, Scientific Programme Manager of ESOF 2020

Round Table moderated by Enrico Nobile, Scientific Advisor, ESTECO SpA

Ilaria Garofolo, Professor, Director of Dept. Eng. Arch. , University of Trieste
Massimiliano Vasile, Professor, University of Strathclyde
Omar Hammami, Professor, ENSTA ParisTech
Damir Vucina, Professor, University of Split
Sergio Benedetti, Human Resource Manager, ESTECO SpA

Conclusions and coffee break