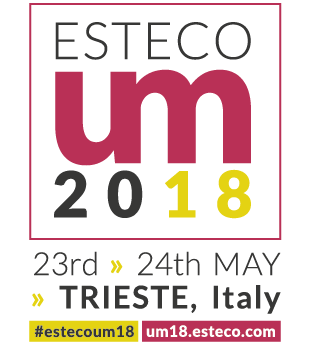 We are proud to announce the 8th edition of the ESTECO International Users' Meeting which will be held on 23rd and 24th May 2018 in Trieste, Italy. This biennial event, first run in 2004, has proved to be a key technology forum for all design optimization enthusiasts​.
With over 200 attendees, 47 speakers, 3 parallel rooms, and a roundtable focusing on MDO, two years ago the international gathering of ESTECO technology enthusiasts confirmed its reputation as a leading forum for sharing innovative optimization applications and techniques. Past editions of the conference bear witness to the global scope of the initiative with more than 600 users from over 50 countries and more than 180 speakers from leading multi-national companies and research centers, including ABB, Bombardier, Embraer, Ford, Petrobras, Volvo and Whirlpool.
A rich agenda of presentations from industry and academic experts will outline the most advanced application scenarios for optimization technology. Along with insightful case studies, participants will have the opportunity to learn more on our future development drivers, to attend workshops and to take part, for free, in training courses to get hands-on experience with ESTECO technology and find out about the latest features.
FOCUS >> EFFECTIVE EFFICIENCY
This year's edition of the ESTECO International Users' Meeting is focused on Effective Efficiency. ESTECO numerical tools for design space exploration and optimization have always been prided for their efficiency in the search for optimal robust solution. With the increasing amount data generated throughout the product development process, effective data management is now crucial to get the best out of numerical efficiency. And vice versa.

Five good reasons to attend UM18:

Check out the new features of the best-in-class process integration and multiobjective optimization platform

Learn how ESTECO technology is used to drive the design process in the aerospace, architecture, automotive and manufacturing industries

Meet industry colleagues and ESTECO Team members, including modeFRONTIER and VOLTA developers

Attend in-depth workshops and tailored training sessions to keep pace with new features and improvements

After a full day of presentations, enjoy a surprising networking event and the social dinner.
ESTECO technology gives its users a competitive edge throughout the product design process; it is the secret of their success and the driving factor behind the development of their most innovative products.
Don't forget to save the dates in your agenda: join us in Trieste on the 23rd and 24th May 2018!